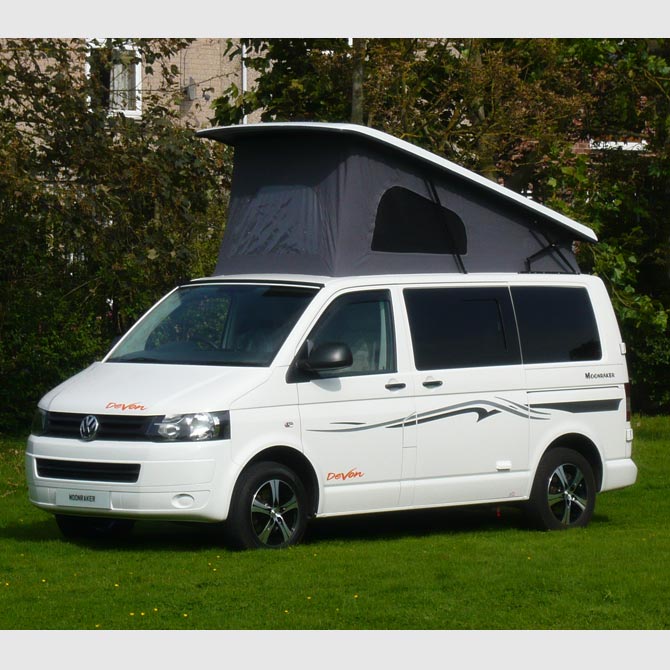 Devon Moonraker Mark 6
10th December 2014 | posted in Devon Conversions News
Devon Conversions, the longest-established UK Volkswagen campervan producer, has revealed prices for its Mk 6 Moonraker which launches nationally at NEC in October.
"After 58 years, it might be thought there is nothing new to do to with VW camper design but we have listened to our customers and tried to offer all the features we have been asked for, with as much choice as possible," says Devon Conversions managing director Peter Gowland.
The Moonraker 6 has both Hi top or elevating roof options and now brings the choice of glass, tinted glass, or double glazed windows with blinds and flyscreens (so important for those who visit Scotland) in all models.
There is a choice of Dometic three way fridge or a compressor type, an oven and grille and increased gas storage to accommodate two Calor 4.5kg bottles to cope.
The hob / sink is a new Smev unit with split glass lids and storage space has been created for the standard-fit crockery. The water pump has been changed to a more substantial pressurised type and fitted internally to stop any freezing problems.
The Moonraker 6 keeps the same basic layout that made it outright winner in the Caravan Club Motorcaravan Design and Drive Awards in 2005 with both cab seats that swivel and, most important of all, a big comfortable bed.
Devon's unique rear layflat seat has been modified to give even more rear storage space (room for a large dog) but still offers the same flat mattress with 5" Reflex foam, an improvement over sleeping on the back of the backrest as in some competing conversions.
The New Moonraker starts at the same competitive price of £37,182 ex works as the Mark 5 and a couple of new conversions on 2011 vans have already been built with prices from £29,995.
Used versions can also be specified with a swivelling double front passenger seat, giving the ability to carry five people in seats each fitted with three point safety belts and increasing Moonraker's versatility as everyday family transport.
"Devon Conversions has played an important part in the life of the VW camper van," adds Peter. "No other make has been built and sold in the UK for so many years and we pride ourselves on our heritage.
"But Moonraker 6 is very much the VW camper van for today's market and the list of equipment makes it truly versatile."